Ingredients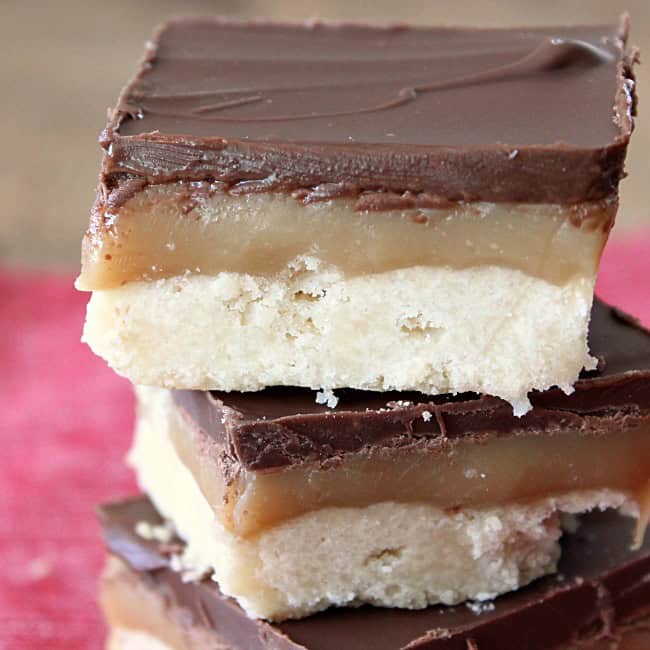 ⅔ cup butter, softened but not melted
¼ cup white sugar
1¼ cups white flour
½ cup butter
½ cup brown sugar
2 tablespoons corn syrup
½ cup sweetened condensed milk
2 cups chocolate chips
1 teaspoon vegetable oil
Instructions
Preheat oven to 350 degrees. Grease a 9x9" pan with cooking spray.
In a small bowl, mix together sugar and flour, and cut the ⅔ cup butter in with a butter knife. Keep cutting it in the mixture until it has formed evenly-sized crumbs.
Press the mixture into the bottom of the 9x9" pan, and bake for 20 minutes - until the edges start to turn a golden brown.
Remove from oven and let it cool completely.
In a sauce pan over medium heat, combine the ½ cup butter, brown sugar, corn syrup, and sweetened condensed milk. Bring to a boil, stirring constantly (you don't want the mixture to burn, so keep stirring). Continue stirring for 5 more minutes, then remove from heat and stir for an additional 2-3 minutes.
Pour the caramel mixture over the shortbread crust. Let it cool (I sped up this process by placing it in the fridge) until the caramel mixture starts to firm.
In a microwave safe bowl, mix together the chocolate chips and vegetable oil. Microwave for 1 minute, and then remove and stir. Continue to microwave the chocolate mixture in 15 second intervals until it is completely smooth.
Pour chocolate over top the caramel layer and let it cool.
Once the chocolate has hardened, cut into squares with a warm knife (that will make them cut cleaner).